Dr. Stephanie McCormick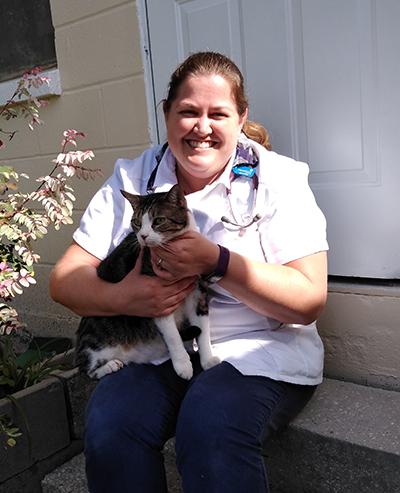 Dr. Stephanie McCormick is the proud owner of Clearlake Animal Hospital, along with her husband John Tavaglione. Dr. McCormick is a Florida native, born and raised in Melbourne. She graduated from the University of Florida with a Bachelor's Degree in Animal Sciences, and is an avid Gators fan. She attended Ross University of Veterinary Medicine and spent two and a half years on the island of St Kitts. Dr. McCormick completed her clinical year training at the University of Missouri. She was originally interested in working with cattle, and worked at a mixed animal practice for a year in Illinois.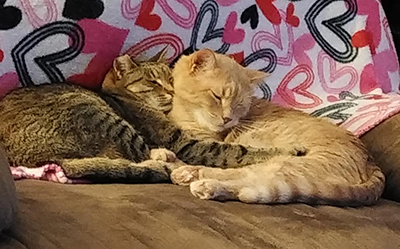 Tired of the cold and snow, Dr. McCormick decided to move back to Florida to be closer to family and ended up at Clearlake Animal Hospital in 2012. She became the proud owner of Clearlake Animal Hospital in April 2019. Dr. McCormick now lives with her husband John, 3 cats, Sebastian, Marli, and Zoe, and her dog Sandy.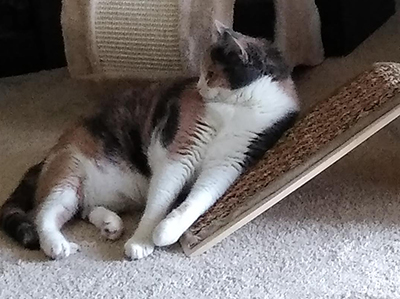 In her spare time, Dr. McCormick enjoys spending time with family and friends. She enjoys the beach and scuba diving. She also enjoys reading. Dr. McCormick is excited to continue to grow with Clearlake Animal Hospital.
John Tavaglione
John Tavaglione was born in Connecticut but spent his youth in North Carolina, California, and finally settled in Florida. He is excited to learn and become part of Clearlake Animal Hospital. He spent 30 years in the t-shirt printing business and is looking forward to doing something different now. John enjoys spending time with family and friends and hanging out with his pets. In his spare time, John is an artist and enjoys painting, he mainly paints sea life but is branching out into painting other things. John is also an avid cook and enjoys cooking fun meals and creating recipes for his family and friends.
Amethyst Albright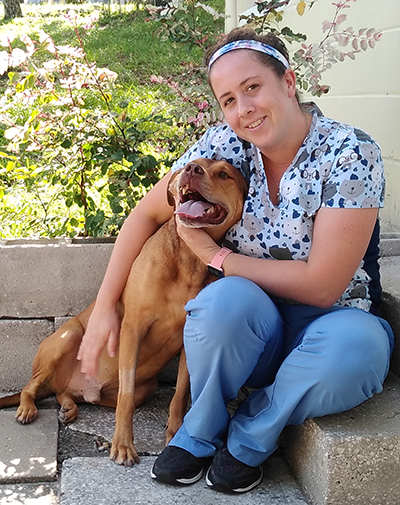 Amethyst is the proud veterinary technician here at Clearlake Animal Hospital. She started her path in November of 2011 as the kennel technician, and over the years her interest in the field grew as she did. Her motivation and knowledge continue to grow every day, knowing that each pet that comes her way is in good hands. Outside of work, Amethyst's main motivation comes from being with her daughter, Amelia, and watching her grow and learn things as well. She also loves doing anything related to the outdoors, whether it be camping, canoeing, air boating, four wheeling, volleyball on the beach, etc. You can assume she is one who is not afraid to get her hands dirty.
Evelyn Mobius
Evelyn has been employed with Clearlake Animal Hospital since July 2017, spending her first year at Palm Bay Animal Hospital. Evelyn has over 12 years experience as a Veterinary Tech. Evelyn took a break in the Veterinary field to serve her Community for 16 years as a Correctional Deputy with the Brevard County Sheriff's Office. When Evelyn is not working at Clearlake Animal Hospital, she does personal pet sitting, and enjoys spending time with her two Chihuahuas, Dusty and Ava Mae.
Megan Pinckley
Megan is a Veterinary Technician here at Clearlake Animal Hospital. She is also our primary Kennel Technician and takes care of your pets while boarding with us. She has been part of our team since 2017 and plans to be here for many years to come. Megan keeps herself busy with her two dogs, Cain and Panda, and her niece and three nephews. She's also an avid movie fan and considers superhero and action films to be her favorites.



Contact Us:
Clearlake Animal Hospital
Phone: (321) 636-4866
Address: 771 Clearlake Road, Cocoa, FL 32922
Email: office@clearlakevethospital.com